About The Chamber
Office Hours: Monday - Thursday 9 a.m. - 4 p.m.
Friday 9 a.m. - 12 p.m.

New Chamber office location: 248 Veterans Blvd. Denham Springs, LA (1st time owners after nearly 100 years)



What is the Livingston Parish Chamber of Commerce?
Chambers of Commerce are business associations formed for the advancement of a geographic area, in our case, specifically Livingston Parish, but inclusive of the surrounding area and region since commerce does not stop at parish lines. Many businesses are familiar with an association that is for their particular industry - (hospital association, bar association, restaurant association, retail association, etc. ) Because the Chamber represents a specific area verses one particular business, many different types of businesses and industries are represented. By the way, 30% of our members are from outside Livingston Parish. You do not have to have a location in the parish to become a member, you only need agree to ethical business practices and invest in the objectives of the chamber - listed below.

Is the Chamber a government agency? How is the Chamber funded?
No, the Chamber is not a government agency nor a tax payer funded entity. The Chamber is a 501 (c)(6) non profit business corporation as determined by the Internal Revenue service and filed with the Louisiana Secretary of State as a non profit corporation. The Chamber is privately funded by the investments / dues of its members. In addition, successful events are important to the Chamber's financial support of its operations and service to business and community causes.

How about Chamber governance, operations and finances?
The Chamber is governed by a volunteer Board of Directors comprised of business owners and executives from throughout the region who are invested in the strength of the organization and its ability to serve its members and the community. A President/ CEO is employed by the Chamber and provides vision and strategy to keep the organization on task. The President/ CEO oversees daily operations, committee support, member services, industry trends, business issues, public policy and other responsibilities.

What does the Chamber do?
The Chamber offers a voice and support to businesses in Livingston Parish and includes, ADVOCACY, EXPOSURE, CONNECTIONS, LEADERSHIP DEVELOPMENT, INCLUSION, COMMUNITY INVOLVEMENT AND IMPROVEMENT. The Chamber offers and provides a business point of view and is THE voice of business in Livingston Parish - and has been for nearly 100 years.


What about Community Development and Improvement?
The Chamber is vested in advocating for the business community and the community at large for a prosperous and growing community. helping businesses, and the community grow and prosper.

Who can join the Chamber?
The Chamber is the only business organization in Livingston Parish that is structured to include varying sizes and types of business with programming and initiatives to serve all sizes. Each business has its own need and seeks their own results from the Chamber.

Membership in the Chamber is voluntary. The Chamber is a member based organization with over 520 members. Business members range in size from the very largest employers with local or international based headquarters to sole proprietors. Businesses are not required to have a location in Livingston Parish to join. They should have a vested interest in the objectives of the Chamber, meaning prosperity and economic impact of the parish and region.

As a professional business association, the Chamber is the go to business organization in the parish with participation from the most influential business leaders in the parish. Having a voice in the business climate of the parish is essential to many business owners. Engagement and investment in the Chamber is the number one way to assure the success of your business and the perspective of your operations are including in the studies, surveys and round table discussions which law makers look to.

Industries represented in the Chamber are vast and include attorneys, real estate professionals, accountants, developers, builders, retail, health care, financial, education, manufacturing, insurance, entertainment, dining, community organizations and an extensive list of other industries. The Livingston Parish Chamber of Commerce is a voluntary organization of business and professional men and women joined together for the purpose of promoting the civic and commercial progress of our community.




Livingston Parish continues to be one of Louisiana's fastest growing parishes, and the Chamber is proud to be a participant of that growth. We strive to aggressively promote a healthy economic climate for all local businesses and thWe also recognize understand our role in workforce and career development and the struggles many businesses have with finding qualified employees. We focus on enhancing our status as a vibrant and thriving Chamber and community.


Chamber membership provides business representatives with many opportunities for community involvement, exposure, advocacy, connections, business education, spotlighting their products and services as well as networking. Members can elect to participate on various committees that range from helping plan our popular annual golf tournament to providing expertise in legislation and governmental affairs.

Chamber membership also includes opportunities for exclusive discounts to member businesses through national and local companies, listings in our annual printed publication and website, personal advocacy as well as a vast network of referral systems.

The Chamber coordinates and sponsors business mentoring and has launched a SMALL BUSINESS ACADEMY plus other courses which are pertinent to business success. Members can elect to host Chamber After-Hours, grand openings, ribbon cuttings or sponsor a local student Award of Excellence, which markets their business name to the community. Additionally, members can utilize our member website portal to promote their business through strategic banner ad placement as well as through member-to-member advertising opportunities.

The Chamber staff can provide web statistical reporting to members who take part in available Chamber marketing programs. Of course, there are the monthly membership luncheons where member representatives have the opportunity to hear informative speakers and network with other members and local dignitaries.


More on the Chamber of Commerce
Purpose
The Livingston Parish Chamber of Commerce is organized to advance the general welfare and prosperity of Livingston Parish so that its citizens and all areas of its business community shall prosper. All necessary means of promotion shall be provided, and particular attention and emphasis shall be given to the economic, civic, commercial, cultural, recreational, quality of life, industrial, and educational interests of the area.
Vision Statement
The vision of the Livingston Parish Chamber of Commerce is to be recognized as the leading advocate for business offering resources and opportunities that only a chamber can provide, to develop leaders and promote the community with a positive spirit.
Image
The Chamber's image will be one of a results-oriented, area-wide, membership organization which is acknowledged as the leader in the business community, providing value to its members. In addition, the Chamber will be viewed as an organization of unquestioned integrity, as a good corporate citizen in its own right, and as an advocate for the free enterprise system.
Relationships to Other Organizations
The Livingston Parish Chamber of Commerce is a member of several major organizations designed to provide specialized service to the Chamber and its membership. These organizations are:
United States Chamber of Commerce
Association of Chamber of Commerce Executives
Louisiana Association of Business and Industry
Louisiana Association of Chamber of Commerce Executives
Membership Investment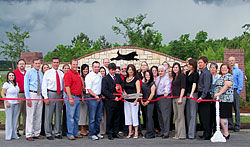 Investment amounts for businesses are based on levels and tiers that are suited to your business needs. The Chamber offers a Premier Corporate Sponsorship that includes a strategic logo/business name placement in select media and print materials. Click on the PDF download, Invitation Form, for the current fees. For additional information pertaining to Chamber marketing and advertising fees, contact the Chamber office.